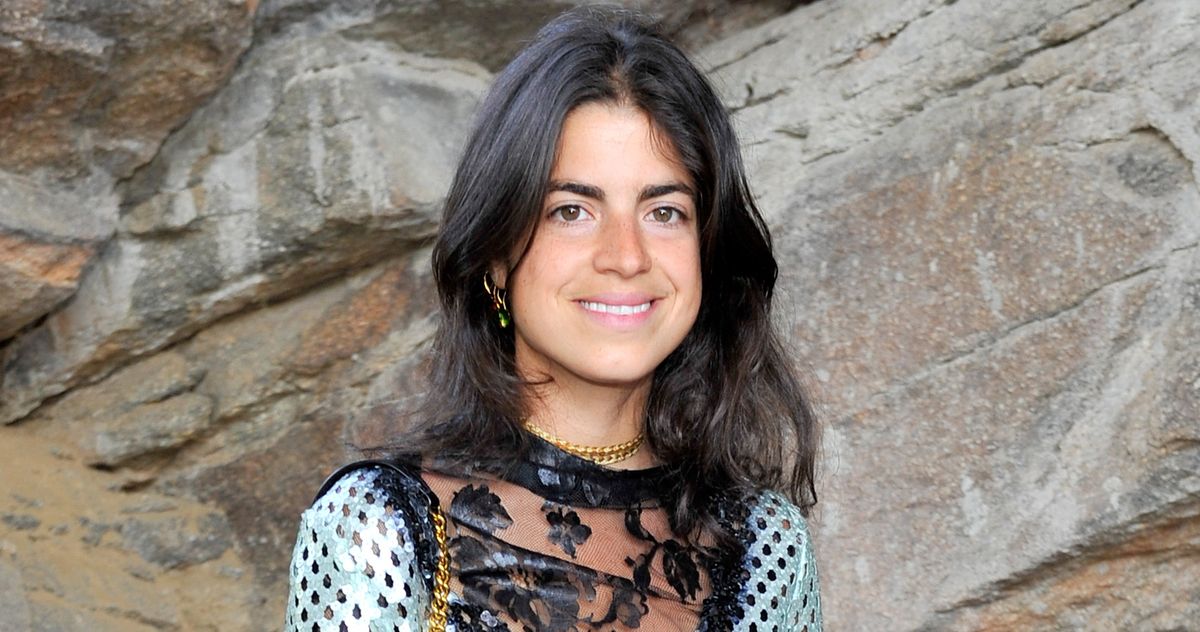 Leandra Medine says she always thought she was "poor"
Léandra Medina
Photo: Getty Images for Louis Vuitton
A little over a year ago, Leandra Medine – founder of the now defunct fashion blog Man Repeller – resigned her post as head of the site. His official resignation came on June 10, two weeks after the murder of George Floyd catalyzed nationwide protests against state-sanctioned violence against blacks and browns. Like many brands, Man Repeller released a declaration of alliance, to come face to face allegations a toxic corporate environment that has kicked out employees of color. Medina announced his resignation on Instagram a few days later, writing that his "ignorance is part of the problem". As a recent interview with designer Recho Omondi makes clear, not much seems to have changed on this front.
In the 1.5-hour first installment of "The Tanning of America" ​​- a two-part episode of the Omondi podcast, The cutting room floor – Medina talks about her experience of being "publicly proclaimed a racist". As Omondi points out, "publicly proclaimed privileged" feels closer to the goal, but it all apparently came as a shock to Medina. Although she admitted that she had not experienced "real and material adversity" in her life, Medine – who grew up on the Upper East Side of Manhattan; attended a private day school; and started Man Repeller in 2010, while still in college, on the motto of her upscale closet – also said the revelation of her wealth had only come to her recently.
"I remember growing up objectively in a privileged environment and always feeling on the verge of becoming homeless," she told Omondi. "I thought I was poor growing up, that I had nothing. "
During the interview – the third Omondi says she was recorded with Medine, after having "canned" the first two, first because Medina was "rude" and later after begging her, through his tears, to kill the band – Medina emphasizes the fact that her parents "are immigrants from the Middle East". His father, originally from Turkey, is the founder and CEO of Mark Henry Jewelry Corporation; her mother, originally from Iran, is the eponymous designer of one of her brands. Although Medina once Featured the family's second home in Southampton on Man Repeller, and although she admits she never received financial aid or any debts accumulated for her private education, she says she didn't make the connection than last summer. (The "summer of learning," she said.)
"I remember sitting in the car with Abie [Cohen, her husband] and my children, thinking to myself, I didn't grow up poor, "she recalls. "I actually grew up rich… I had everything."
For Medina, the confusion seems to come from belonging to "the upper echelon in this city", but "at the lower end". Some of her classmates, she explained, lived in "buildings that require things like assets over $ 100 million for you to get approved by their boards." They took five vacations a year, while her parents "tried to have their own experiences as new Americans in this new environment." Therefore, she found herself lying to her friends when she couldn't budget the rest of her weekly allowance to cover dinner at the restaurant where "you can't even order a salad… with $ 20 in your pocket". Not being able to afford all of the same things her hyper-rich classmates all the time sent Medina into "scarcity mode," she said.
Anyway, if you were wondering if the comments from his former employees, namely that a favoritism culture siled opportunity among white employees and sidelined staff of color – past the answer is… eh! Medine told Omondi that she did not consider herself a racist; instead, she thinks the complaints about her management style at Man Repeller boiled down to the fact that she was "an immature asshole," she said. "I'm an equal opportunity asshole. Like, I sucked as a leader.
In the days following the episode published on July 7, Omondi was criticized for the anti-Semitic tropes she deployed in her commentary: exaggerated statements about the involvement of the Jewish people in the slave trade, the stereotype of the "American Jewish Princess" and widespread statements about nose jobs, keratin treatments, and materialism. She then edited these and other references from the episode, assignment an "apology to the Jewish communities" on July 20. "I have said some really crass and reductive things about the Jewish people," she said. "I am so sorry for all of the people that I have disrespected and alienated from my own lack of understanding for, really, the depth of Jewish culture." Noting that she wanted to take stock of "the ways blacks are not able to assimilate so easily into America" ​​and her own experiences of working in the fashion industry, she said she was sorry. for putting insulting prejudices on the table.
In his apologies, Omondi also reiterated a statement from the end of the first part of the episode: that these "unconscious beliefs" would be the subject of the second part of his conversation with Medina. Only now, six weeks after the release of Part One, Omondi has announced that Part Two will never air. On August 17, she shared a ten-minute clip on her Patreon, explaining her reasoning. In the aftermath of the controversy, she said:
There was incredible pressure on how the second part was going to come out. What would be in it, what would be left out, what was said, what audio was used and, most importantly, how the story was going to be told. How he was framed. I was doing some of these changes originally, but it got to a point where it practically hit a dead end, and that was, either I'll tell this story the way I do. lived, and tell my truth, either I 'I'm not going to talk at all.
Noting that the wait for the second half had gone on too long, Omondi said she "definitely heard" the reviews and believed the first part did what it needed to do. She also said she knew "exactly what [she] experienced, not only in the process of recording this last episode, the first part, but also as a black woman in this industry. Omondi will reimburse Patreon subscribers who "came for tea" and never got it.
This post has been updated.