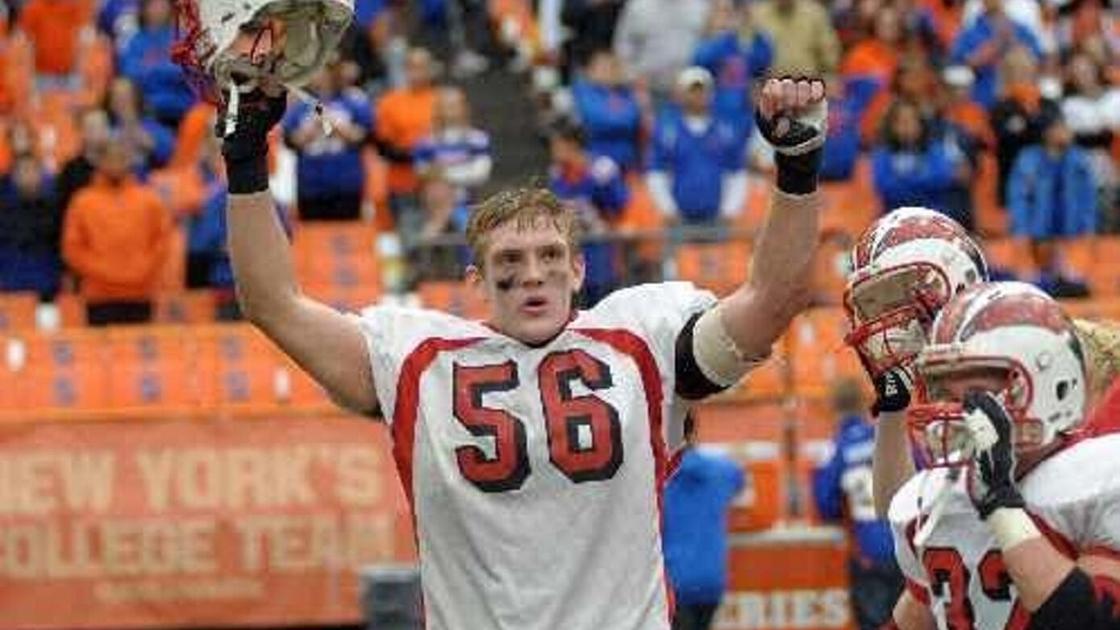 Letchworth honors one of the best teams in LCAA history | Sports
GAINSVILLE – When the Letchworth football team won the New York State Class D state title in 2011, it was the culmination of three years of domination and many years of hard work for a team that the region will not see again soon.
Led by Hall of Fame head coach Tim 'Sticks' McMullen, the Indians capped a three-year streak of three Section V titles with a magical Carrier Dome run and the first and only State Crown from the program.
The Letchworth program alone would cease to exist after the 2014 season, with low numbers forcing a – which proved to be successful – merger with Warsaw, and now Perry, but this state title squad was not to be forgotten. .
In LetSaw / Perry's win over Marcus Whitman / Bloomfield last Friday, the 10th anniversary of this special team was commemorated at Warsaw High School, with McMullen and the vast majority of that team on hand. And there were not many of them.
Letchworth has played much of this championship season with just 16 players on the varsity roster, the bare minimum to qualify for a game. The Indians, for the most part, avoided injury. And when they couldn't avoid the injuries, they just played through them.
"The fact that we've accomplished so much with the bare minimum, 16, is a testament to the tenacity, willpower and loyalty each player has to the staff and to each other," said McMullen. "In any football season, players face pain, difficulties and setbacks. We've had all of this at one point, which makes it a bit miraculous. These athletes, parents, staff and community are great role models for any team or business. "
A 27-0 win over undefeated Chester in the Class D championship game marked the end of the championship in a three-year streak that saw Letchworth register a 32-3 combined. In those 35 games, the Indians outscored their opponents with a superb score of 1,187-216, which equates to Letchworth's average offense averaging 34 points per game and defense of just 6.2 points. per game.
In that three-year span, Letchworth's defense finished with 16 shutouts in total and while the 2011 squad were the ones to reach the pinnacle of high school football, the 2010 squad may have been better.
The 2010 Indian team outscored their opponents 440-44 and finished the season with eight shutouts, including seven consecutive to start the season. This team, however, would see their season end on a high note in the Wild West Class C regional final against Section VI's Fredonia, 18-13. Fredonia would fall to General Brown in the state semi-final game.
Yes, Class C. In 2009, the Indians would also drop 10-0 in Section V impressively before falling to the might of Section VI Class C of the southwest in the Far West Regional. Southwestern would win the state title that season.
Eventually in 2011 Letchworth would end up in Class D and the previous two seasons would simply become a sign of things to come.
"This group of athletes and parents have signed up for many years before the state title season," said McMullen. "The weight room and even other sports made it obvious and exciting for the staff. There was no doubt in the minds of the staff that we were championship caliber. Daily attention to detail was at the center of our concerns.
This team would include a collection of talented seniors who don't come often. The likes of Chris Nevinger, Ryan Owens, Clifton Bacon, Christian Coniglio, Austin Bowles, Jordan Andrews, Tyler Hall and a host of others would ensure their final season in Red & White would make history.
The things that are falling, however, did not start as planned.
After winning 20 consecutive Section V competitions, Letchworth was stunned on the road on opening night at Wellsville, the future Class C Section V champion. The Indians struggled on the ground that night , averaging only 3.21 yards per carry and running only 106 yards. A key cog was missing, however, as Neveringer would miss the first two games of the season due to injury.
What Neveringer would do in the last 11 was just special.
The following week the Indians were back on the ropes again, this time behind defending Section V Class D champion and Class D runner-up Caledonia-Mumford 12-3 heading into the fourth quarter.
But Owens would run for a score and throw a TD at Bacon in the final 12 minutes as Letchworth escape with a 16-12 victory. The Indians would no longer be threatened before the Class D semi-final match.
"The commitment of the players to each other and the staff has exceeded all expectations this season," said McMullen. "Their strength was both physical and mental, starting in the weight room years ago. We have been truly fortunate to have so many talented student-athletes over many seasons. The experiences we have had in previous seasons have given us insight and purpose in 2011. "
Neveringer returned the following week and ran for 252 yards and four touchdowns in just 15 carries in a 55-7 rout of Perry and the Indians would officially begin their race to history. The victory would mark the start of a five-game streak to end the regular season in which the Indians threw three shutouts and outscored their opponents with a stunning 244-14.
Included in that run were a shutout from future fusion partner Warsaw, a 42-7 shutout from perennial power Le Roy and a 44-0 whip from Avon in the regular season final.
Letchworth would then go on to hammer Caledonia-Mumford 35-7 in the Class D semifinals – there were only two Class D rounds played in the sectional at the time – before the Indians got Avon again. This time would not be as easy as the first.
With the game tied at 21 at halftime, Letchworth would get a five-yard Neveringer touchdown run in the third quarter and a nine-yard Owens run in the fourth to pull away for a 35-21 victory. Letchworth's defense forced four turnovers on the night and Neveringer ran for four touchdowns as they saved their special season with their third straight section block.
The following week, Neveringer and Bacon would both rush for more than 200 yards as the Indians absolutely destroyed champion 'D' Geneseo 56-6 in the State Class D qualifier. The following week, Letchworth scored 17 unanswered points in the second half to pull away from the perennial power of Maple Grove, 30-14, to win the Wild West Class D regional final. In this game, it was Owens' arm that made the difference as he finished 13 of 14 for 185 yards and a pair of scores.
Led by Neveringer, the rushing game racked up 223 yards and controlled the clock 32 minutes to 16 on the way to the state semifinals.
In the state semifinals, Nevinger ran for 184 yards and two scores and Letchworth's defense completely stopped Tioga, forcing a pair of turnovers in a 14-6 victory.
At that point, the undefeated Chester had no chance in the title game.
Throwing just three times the entire game, Letchworth had 173 yards and two rushing scores from Neveringer, as he rushed for 310 overall, scoring 14 in the first quarter and heading to a 27-0 victory. to win the Class D crown.
"In my 30 years here, it's the greatest feeling I've had," said McMullen after the victory. "This state title represents a chemistry between our communities, all eleven. From Castile to Bliss to Silver Springs to Pike, and all the rest, this region has really bonded. This state championship belongs to all 11. "
In that game, the Indians' defense limited 3,000-yard rusher Saxton Smith to just 131 rushing yards on 31 carries; Bacon, who had a touchdown reception of 75 yards, 61 yards rushing and seven tackles, was named MVP of the game, Neveringer was named best fullback of the game, adding 11 tackles in defense, center Jake Remington has was named the most valuable offensive lineman and Bowles, who finished with a career-high 14 tackles, was named the most valuable defensive back.
The team would finish at 5-3 the following year and McMullen would retire shortly thereafter, after the 2014 season, but the program's place in history had been cemented.
"This team certainly deserves any recognition they receive," said McMullen. "We had other teams that were at the same level of talent and commitment. So much has to come together to achieve such lofty goals. Talent, committed parents and administrators, community support… you really have to be lucky. Personally, I have been fortunate to have this team and dozens of others who have compiled hundreds of great connections. This is teaching and coaching.
Neverger would end this season with an incredible 1,987 yards and 26 touchdowns in just 225 carries in 11 games. He will end his career as one of the best rushers in Section V history.
Bacon would add a strong season with 978 yards and 16 touchdowns in just 116 carries, to go with 395 receiving yards and six scores on 24 receptions.
Owens finished his senior season with 67 of 110 in the air for 1,138 yards and 12 touchdowns, while he also ran 72 times for 505 yards and seven touchdowns.
Coniglio was the team's best receiver as he caught 26 passes for 430 yards and five touchdowns.
In defense, Remington was the top tackle with 157 total saves, while Bacon had 130, junior Jeff Day had 122 and Andrews added 119. Bowles added 83, Nevering had 72 and junior Cody Waite had 78 for a team that finished the year with 72 total tackles for a loss.
The team also had 19 sacks, led by five from Andrews and four from Day, as they forced 29 turnovers, including seven Owens interceptions and four Andrews fumble recoveries.
McMullen got to see most of these former players last Friday night.
"Just watching each player walk through the door and the excitement of everyone else seeing each other is indescribable," said McMullen. "This mutual loyalty and love is the raison d'être of coaching. We will love and respect each other no matter what life brings us.
In total, McMullen was the head coach of football at Letchworth for 12 years, winning over 70 career games and leading Letchworth to three Section V titles in 2009, 2010 and 2011, while also earning several coaching accolades from the year. Sticks was inducted into the Section V Football Hall of Fame in 2014.
McMullen was the head coach of the boys varsity basketball at Letchworth for 31 years, posting 334 career wins. He is a four-time Section V Coach of the Year and led Letchworth to the CCC Class Section V title in 1999.
The combined Letchworth / Warsaw program would win back-to-back Section V, Class C titles in 2018-19.
Ahead of this season, LetSaw merged again, this time with Perry.