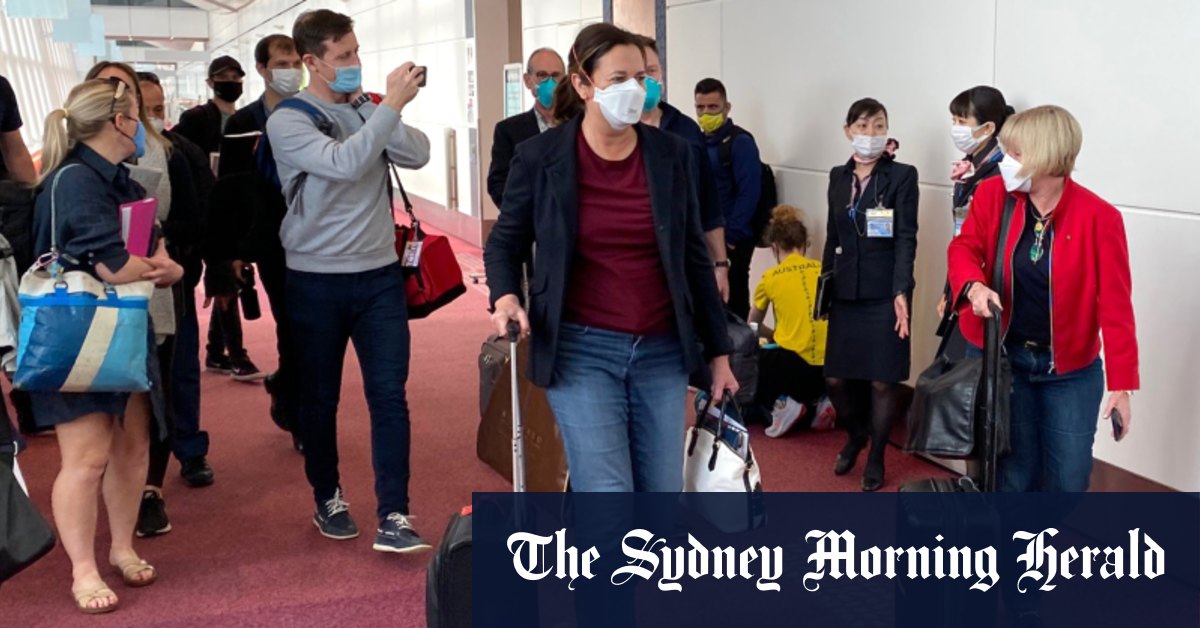 Media turf war over Brisbane 2032 Olympics announcement
It has been a quiet time for Michael kodari ever since the self-proclaimed investment guru swapped his glitzy Chifley Square office for the more modest surroundings of North Sydney's CBD. But the Warren Buffett-Wannabe can only fly under the radar for so long.
An NSW police report filed early Friday evening shows that nothing can stop Kodari's rapacious headline-generating abilities – not even the pandemic.
Officers from the North Shore Police District Command slapped the face of Kodari, 35, on Friday night with a $ 1,000 fine violation notice for violating stay-at-home orders at a party. office. A truncated police report detailed the scene: "The police responded to reports of a party taking place in a commercial premises. Officers… attended and found 10 people having dinner after work, "a police spokesperson said.
"Police issued each of the co-owners – a 35-year-old man and a 30-year-old woman – a $ 1,000 PIN code before everyone was escorted off the premises."
So what gave the little shindig? Perhaps it was Kodari's two cars – a Bentley and a Range Rover – with separate "Bank" and "Roll" license plates parked in the parking lot of the KOSEC Securities office. Or maybe it was the noise of the party that could be heard outside the offices.
It's just a shame that Kodari – whose real name is Yashar Kodari – was not ready to comment on Tuesday's slippage, or ask questions about who attended the exclusive party or what they celebrated.
JABS AND JABS-NOT
Vaccine apartheid has poked its ugly head in the most unlikely place: the federal parliamentary press gallery. It was at the Lodge on Wednesday when journalists' right to grill Scott Morrison clashed with public health orders.
The PM is in iso at the Lodge after flying from Sydney's red zone, in preparation for the next parliamentary sitting week. He is keen on having his boots on the floor in the bedroom and avoiding being a talking head on the television. Less authority that way.
But things got complicated on Wednesday morning when a new directive from the prime minister's media team landed in journalists' mailboxes.
Instructions came out of the PMO that all media in attendance must wear masks, register on a QR code, be on time and, oh, be fully immunized.
Say again? A sizeable challenge as most of the gallery is under 40 and is still waiting for slots at its local GP to get its jabs.
So who would invent such an unrealistic rule?
It may have something to do with the fact that much of the Prime Minister's Office has been vaccinated – a fact PMO idiots like to downplay.
Some staff under 40 have received the AstraZeneca vaccine. Others received Pfizer's photo before accompanying the Prime Minister on his trip to the UK for the G7 summit and a side trip to the Cornish town of St Keverne.
President of the press gallery David Crowe pushing for media man PM Andrew Carswell to cancel the ban.
It didn't take long. A follow-up note was circulated saying that full vaccination was preferred.
"But if your point of sale has no one; one person can still attend – noting that the minimal health risk is further mitigated for those in contact with PM if they are fully vaccinated. "
The fastest revolution ever, you might say,
Gaze of a thousand islands
SPOTTED: Mod-Oz Culinary Pioneer Neil perry jumping out of a smart black Toyota Corolla to shop on Oxford Street in Paddington on Wednesday morning. The founder of Rockpool Bar and Grill was dressed in a brown leather coat, faded designer jeans, sparkling white sneakers and a scarf that could barely hold his trademark salt and pepper ponytail – is it still insured? – to be shaken by the stiff breeze. A real spectacle indeed.
Never miss a medal or a great sporting moment with our Olympic update sent daily by email. Subscribe to our Sport newsletter here.