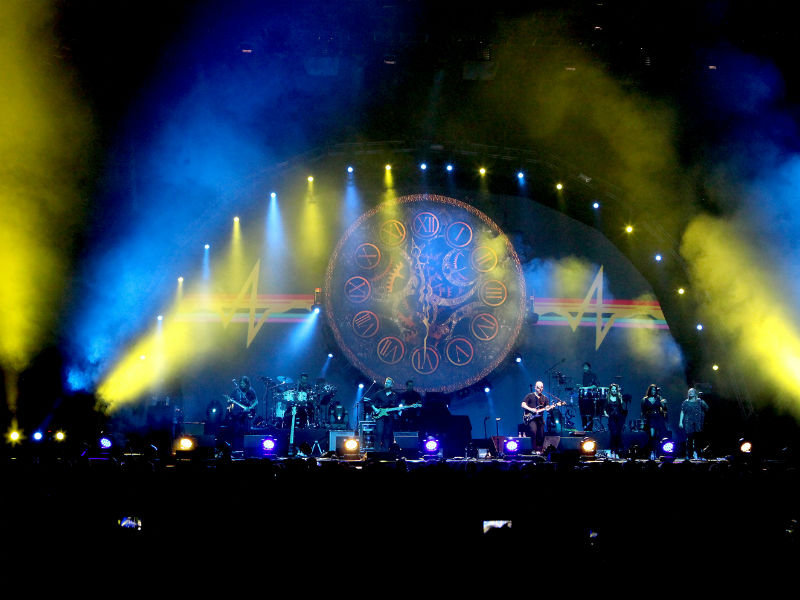 OnMilwaukee weekend preview: August 5-8, 2021
It's officially August, the last month of summer, which means you have to start well. We have brewing games, lots of live music, and lots of ways to support local artists. The Wisconsin State Fair is back with all the people, puffs, racing pigs and more you missed. You can celebrate African American culture with Bronzeville Week. Buskerfest will debut as people compete in the city's American Triathlon. So much to do and so little time. For this reason, it's imperative to dive in and start planning your weekends.
FRIDAY
BRIT FLOYD
The world's biggest Pink Floyd Tribute show is back at the Riverside Theater. Celebrate the iconic album "The Dark Side of the Moon", as well as other clips from their discography by purchasing tickets to this epic tribute show here:
https://www.pabsttheater.org/events/detail/britfloyd2020
CONCERT CRUISE
Listen to music from the organization Undercover. They will play you electronic jam fusion while being on board the Milwaukee Boat Line. The boat will leave the quay at 8:30 p.m. sharp.
RATBOYS
Come celebrate the 10th anniversary of this group by attending their show. They will be playing songs from their latest release, "Happy Birthday, Ratboy". The Milwaukee Telethon will open at night. Discover it all at 9 p.m.
FRIDAY EVENING YOGA
End your work week with yoga and a cocktail. Black Cat Alley will have a beginner's class next to their murals at 6 p.m. After you start training, you are invited to the pharmacy bar inside the Carrefour Collectif for drinks and snacks. Make sure to head to the website to snag your spot.
RETRO DANCE PARTY
This iconic dance party is officially back! Dance the night away to 80s and 90s DJs. Come party the night away at crazy planet, from 9 p.m.
$ 10 SHOW
It is the night of tributes to Shank Hall. Come see Diver Down to introduce you to Van Halen's discography and Night Snake that of Whitesnake. Buy your tickets here and get ready to sing the night away:
TRINITY IRISH DANCERS
the Betty Brinn Children's Museum welcomes this dance team for a performance and a lesson. All you have to do is pay the entrance to the museum and then you can learn an Irish jig.
SIN OF ANESTESIA
This Spanish rock-n-roll team will travel from Chicago to perform this Friday night. Jam on their tunes at The Pabst Theater from 20h
SATURDAY
DRIVE-THRU BEER
Local indies in our city are coming together to once again support concert halls with LIVE Again MKE. This debut event will feature 1840 Brewing Company, Colectivo Coffee, Component Brewing, Explorium Brew Pub and Lakefront Brewery. These local joints are launching a drive-thru service at Turner Hall Ballroom from 10 a.m. to 2 p.m. to raise funds for our sites. For $ 50, you can get a LIVE Again beer from each brewery and a pound of LIVE Again coffee in a LIVE Again tote bag. One hundred percent of these profits will be donated to sites participating in the initiative. Find out more here:
https://onmilwaukee.com/articles/live-again-mke
WELL-BEING IN THE PARK
Exercise outdoors in the Cathedral Square Market. There will be yoga, interval and Pilates. Each class lasts one hour. The first starts at 9 a.m. Once your workout is over, you can stay in the market.
JOE ROGAN
You might know him from his podcast and / or his comments on the UFC colors, either way you can see him standing at the Fiserv Forum. After reprogramming, it will finally be in MKE at 8 p.m. You still have time to buy tickets here: https://www.fiservforum.com/events/detail/joe-rogan
STYLE SHOWCASE
The war memorial center will host an extravaganza with music, fashion and couture. You won't want to miss it this Saturday at 5 p.m.
DJ PAULY D
This Jersey Shore fan favorite makes a comeback at The Rave with its seventh appearance. Get ready to move and groove on every track he plays. It will be a night of pumping and fun.
FIREFLY ART FAIR
Talented artists come together for this Wauwatosa art fair. Head here to shop and experience the handcrafted products of the 50 vendors. It will run from 10 a.m. to 7 p.m. Admission is $ 10.
Y2K DANCE EVENING
Get back to those MySpace selfies, hipster jeans and Blackberry phones with this dance party from the early 2000s. The DJ will spin the tracks you use to see the "TRL" countdown. Move and groove the night away at Crazy planet. The party starts at 9 p.m. –
LEANNE MORGAN
She is housewife, has a comedy special, and hosts a podcast. Come see this multi-talented woman perform at the Pabst Theater. She will make you laugh this Saturday at 7 p.m. Tickets are still available here: https://www.pabsttheater.org/events/detail/leannemorgan2020
SUNDAY
FREE MUSIC
The 8th Annual Matinee Milwaukee Noon Music Mash-Up is happening at Kochanski's Concertina Beer Hall, which is named as one of OnMilwaukee's hidden gems. The range includes Bright-Eyed & Blind, Chaz and The Rogue Electrics. Prepare to hear their tunes at 2 p.m.
THE BOBBY LEES
A punk garage band from Woodstock, New York, are ready to make some noise in MKE. See them and The Women rockin 'out at 8 p.m. Tickets are $ 15.
EP RELEASE PARTY
MUDY, rapper MKE, heads to the Cactus Club to share new music. Come see her as well as D. Bridge, Lucien Parker, Tye Motives and DJ Snack Daddy. Tickets for this evening of music are $ 10 in advance and $ 15 at the door.
THE LAST THING WE DO
Warrior Songs, a Wisconsin nonprofit that helps veterans heal from the trauma of war through the creative arts, has produced a CD. It will feature 14 songs created by professional songwriters from first-hand accounts of Vietnamese-era veterans, which will then be performed by professional musicians. Celebrate the release of this at 2 p.m.
YOGA AND BEERS
Take part in an outdoor yoga class, then stick around for a beer and brunch at Company Brewing. The ticket includes one hour of lessons for all levels and a drink. Training starts at 10 a.m.
MUSIC @ SAINT KATE BAR
Every Sunday you can attend a morning performance of Jack Tell. He will amaze you with his fingerstyle guitar at 11 o'clock. If you can't make it, head to the bar at 5 p.m. to listen to Carolyn Wehner's piano and cabaret tunes.
CEMETERY VISIT
The Forest Home Historic Preservation Association will take you through the cemetery to explain Milwaukee's industrial history. The tour will last 90 minutes and start at 2 p.m. Tickets must be purchased in advance.
FACTORY VISIT
Go behind the scenes to see how Stone Creek Cafe creates your coffee. For $ 7, you can join the tour at noon or 2 p.m. They will take you on the coffee journey from seed to cup and take you through all the rooms of the factory. Free coffee and pastries will be ready to taste.
THE WHOLE WEEKEND
WISCONSIN STATE FAIR
It's that time of year again – the Wisconsin State Fair! For ten days, enjoy some classic cream puffs, fried Oreos and other tasty treats. Then, burn off all those calories by strolling through the gardens, jumping on amusement park rides, watching endless competitions, and listening to countless concerts – with entertainment on the main stage this year including Billy Idol, Foreigner, Brothers Osbourne, Chris Young, Skillet and more.
BAYSHORE SOUNDS OF SUMMER
OnMilwaukee is a proud sponsor of the Bayshore Sounds of Summer. This Friday you can stop by to listen to some live music from Joe 2.0. These are rockstars that perform from 6 p.m. to 8 p.m. in The Yard. On Saturday, Accompany of Kids will be present. It is a group of talented young singers and dancers as well as a non-profit organization. Food trucks will also be present on both nights to take advantage of it.
BRONZEVILLE WEEK
It's time for Milwaukee's annual celebration of African American culture, history, art, commerce and entertainment. Head to King Dr. and the surrounding neighborhoods to enjoy the event. Full details can be found here: https://city.milwaukee.gov/Bronzeville/Things-to-Do/Bronzeville-Week
BREWERS GAME
From Friday to Sunday, the Brewers will be in their stadium to face the Giants. Come cheer them on, drink beers and eat hot dogs. Tickets and timetable can be found on the site.
UNITED STATES TRIATHLON
This great event returns to MKE and offers two races. You can either watch the competition or watch. Anyway, get all the details here.
BUSKERFEST
The streets of downtown will once again fill with music, thanks to the very first Jumpst (ART) Downtown Buskerfest. From Friday to Sunday, you can enjoy street performers doing hip hop and R&B, jazz, Americana, acoustics, instrumental, funk and soul. There will be over 60 local musicians who will roam the streets of East Town, Westown and Historic Third Ward. Find out more here.
RENAISSANCE FAIR
Summer is not the same without the Bristol Renaissance Faire. Fortunately, the reopening date is finally here. Take your corset or your armor and go for it. The fair is complete with arts, crafts, games, rides, food, music, and unique encounters with a colorful cast of characters from the era. It is open every Saturday, Sunday and public holidays. Hours run from 10 a.m. to 7 p.m. Make sure to buy tickets and read the new security measures.
BRUNCHONS
It's the weekend so that only means one thing … BRUNCH. We've put together a guide to where you can get yours this Saturday and Sunday, whether you're dining there or performing. Check out our guide!
© 2021, OnMilwaukee