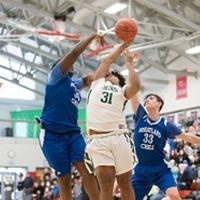 The Wheatland-Chile boys wrap up a phenomenal two-year run with a loss to No.1 A/P in the D1 class title match | Sports
LETCHWORTH – The Wheatland-Chile men's basketball team, defending section champions, came to a point of ultimate surprise, losing 68-67 in the Section V Boys Basketball Class D1 final of the Last weekend.
Led by 10 in the second quarter at No. 1, unbeaten and co-defending champion Avoca / Prattsburgh, who had won 33 consecutive games before Saturday's championship switch, WC broke and had a chance to winning it on the final possession of the game.
With: 17.4 remaining in the fourth quarter and the score at 68-64, second A/P student Macoy Putnam had the chance to put the game away if he had to finish both ends of a one-and- one that would have given A/P a six-point lead. But after Putnam missed the forward, WC pushed the ball to the other end of the floor where senior Jahmere Copper knocked down a deep three to cut the Wildcats deficit to one with just over :05 remaining in the match.
Avoca / Prattsburgh then quickly called a timeout to discuss their lead now at one with: 03.4 remaining on the clock after a few seconds lost after the basket was made and before the timeout. On the ensuing face-off, Copper got his hands on the lead-in pass and knocked the ball into the hands of junior WC Terry Bayly-Henshaw who tried to pass it to Copper in the front corner the ball is pushed back and the last two seconds. ticked the clock.
In dramatic fashion, A/P had held on to win their 34th straight game and second straight section title. The final buzzer signified the conclusion of what was a great run for WC's senior group. After the game, Wildcats head coach Scott Lund praised his team's efforts.
"Proud is definitely an understatement," Lund said as the A/P celebration unfolded around him at Letchworth HS. "The boys competed. We knew it would take 100% effort at both ends of the floor. We had guys come off the bench and compete. We got there in the second quarter and the boys didn't blink. They kept fighting and even at the end of the game we lost a few possessions, and they still didn't blink. I'm proud of them.
Lund's son, senior forward Aaron Lund, finished with a game-high 26 points despite missing a major streak in the first half with what appeared to be a serious ankle injury. . After missing several minutes of playing time, during which A/P took the lead in the first half, Aaron Lund came back with heroic style to help bring his team back into contention.
The senior forward, a 1,000 career point scorer, was part of the 2018-19 Wildcats team that finished 0-21. A few years later, he and his '18-'19 teammate, senior Brendan Moore, helped lead the WC back to the promised land with a title in '20-'21 and a second-place finish in '21-'22.
"It's a process, it's a grind," Coach Lund said of what Lund, Moore and others endured to help bring his team back to viability. "We took our pieces, but they were able to enjoy the process, set goals, work towards those goals… When you get a band that engages and they get invested from a young age, it continues through college and makes my job easier.
Saturday's league game was an up and down battle between two teams who refused to back down for 32 minutes.
For A/P, senior Pacey Hopkins was named tournament MVP after scoring 20 points and adding five assists and four rebounds in the title game. Sawyer Devoe matched Hopkins' 20 points, while rotational junior Jamel Crowder was the X factor for A/P. Crowder knocked down four 3-pointers on his way to a 12-point effort. Putnam finished with 11 rebounds and 11 assists to help his team's cause.
Wheatland-Chile's season ends at 19-4.
"It's one of those teams that pulls through and is kind of a coach's dream," said Coach Lund. "Really happy for the season, unfortunately we were a bit short."
Avoca/Prattsburgh are now 23-0 and face Class D2 champion Notre Dame (20-3) in crossover 'D'. The Irish previously fell to A/P in last year's section title game.